Our Premium Product Line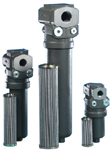 Compressor Filter Supply, LLC is a distributor of top-quality, non-branded replacement filters and housings for hydraulic and industrial applications, providing products for many major industries, including: Agriculture, Construction, Gearboxes, Industrial, Mining, Offshore, Railways, Shipbuilding, and Steel / Heavy Industry. Our filters meet or exceed OEM specifications, in form, fit, and function. We will provide specifications, if requested, with our quotes, as well as all the necessary information for shipping U.S. and Internationally.
Vision -Our goal is to provide effective filtration products at the fraction of the cost of OEM and still deliver outstanding performance and reliability with our products. Backed by factory ISO 9001:2000 certification, we can provide perfect fit filters on all of our interchanged elements.
Payment - We accept all major Credit Cards - Visa, Mastercard, Discover, and American Express, - or T/T - Wire Transfer, or Net Terms with Credit Applications for our U.S. clients.
Shipping within the U.S. - FOB: Shipping Point.
Shipping Internationally - Terms: Pre-Paid WT or CC. Shipping - To Most All Countries, Fedex Intl Economy, and USPS Express Mail is most cost effective. Upon shipping goods, we will include Certificate of Conformance, Certificate of Origin, Commercial Invoice, and Air Way Bill information.
E-Commerce Ready - We have a Website Fully Capable of handling Pricing & Availability, and Orders. We update each part with specifications and photos so that you can be confident that you're purchasing the right parts. We are confident that using Technology can Enhance your experience in the purchasing process.
Try our Quote / Cart System!
TRY OUR E-COMMERCE CART SYSTEM TODAY, AND SAVE 10 % OFF YOUR FIRST ORDER!
We provide quality filtration in variety of medias, micron rating, and are tested in accordance with Internationally Recognized ISO standard testing.
Medias Available
Resin Impregnated Cellulose:
Microglass:
Stainless Steel Wire Mesh:
Micron Rating available:
03, 10, 25 micron
(Betax=2)
- Micron Rating available:
01, 03, 06, 10, 25, 40 micron
(Betax=200)

Micron Rating available:
10, 25, 60, 125, 200, 250 micron
No Beta Rating

Also available: carbon steel wire mesh, water absorbent media

- Gaskets/Oring Seal materials: Buna-N for Mineral Oils (HH, HL, HM, HV) (default), Viton for Synthetic Oils (optional)
- End Cap material: typically Zinc Plated Carbon Steel, Stainless Steel optional.
- Support Core material: typically Zinc Plated Carbon Steel, Stainless Steel optional.
- Pressure drop charts available, in accordance to ISO 3968.

Hydraulic Product Line
Filter Elements
Description
Housings, if applicable.
Suction Strainers are located in the inlet of the pump. The strainer removes contamination from the reservoir fluid before it reaches the pump and the system components. These filters should be set up with an internal bypass valve to prevent starving the pump.
Note: These are usually threaded (right).
Pressure Filters are located downstrem of the pump. It is exposed to full system pressure. The filter removes contaminantion generated or passed by the pump. An exceptionally contamination sensitive component may be protected by a "point of use filter" located immediately upstream of it.




Return Line Filters are located downstream of the pump and system components and upstream of the system reservoir. The return filter removes contamination generated or ingested by the pump and components before the fluid returns to the reservoir.





Spin On Filters / Assemblies are used for both for suction and return lines used in the Hydraulic Industry.


Our factory has an in-house laboratory, and can meet specific performances with superior standards using the following tests:
Bubble Point Test:
Is the differential gas pressure at which the first steady stream of gas bubbles is emitted from a wetted filter element under specified conditions. The air pressure required to blow the first stream through a pore is inversely proportional to the size of the largest pore in the element.

Patch Test:
Visual analysis of a fluid sample is performed by passing a fluid through a fine media patch. The patch is then analyzed under a microscope.

Particle Counter Test:
A test that gives a particle count and cleanliness classification.

Laboratory Analysis:
Gives a complete look at a fluid sample. Typical offerings include viscosity, neutralization number, water content, particle count, spectrometric analysis, trending graphs, photomicrograph and recommendation.

Our elements have been independently tested (Multi-Pass Test) according to ISO 16889 by a leading U.S. filter-testing laboratory.
Multi-Pass Test:
The multi-pass test is used to determine the Beta ratio/micron rating and dirt holding capacity of a filter element.


-We have the product line
-We have the cross references
-We have quality, tested products
-Why not give us a shot? Let us quote your filter elements.
Contact Us...




© 2017